We sell 2 types of children's toothbrushes to fit the Brush Bus, the Brush Rack and the Brush Box. We do not sell adult toothbrushes.
Nursery Toothbrushes 35p each

Individually wrapped, in a choice of 4 colours (red, green, yellow or blue)
Use these with the toothbrush stickers supplied with every Bus and Rack. (Wrap the sticker around the toothbrush handle so that the sticker edges overlap to ensure good adhesion.)

A child's name can also be written on the broad handle if desired.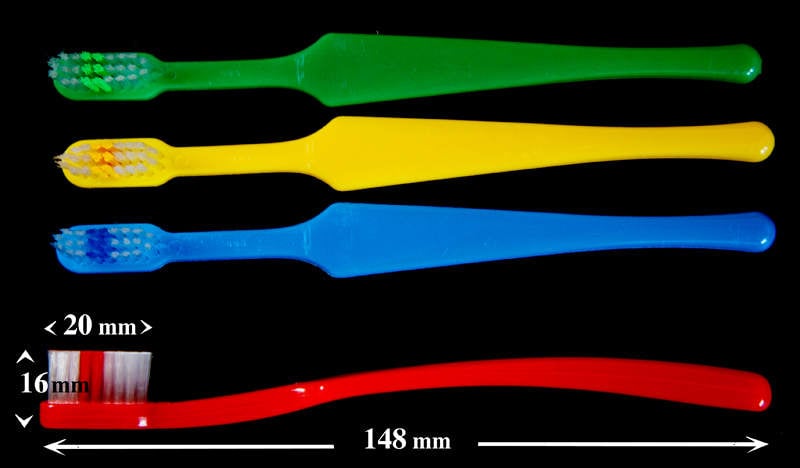 Junior Toothbrushes with printed symbols. 35p each (£3.50 per set of 10)

These have a larger head than our Nursery Toothbrush and are supplied with symbols printed on the handle to match the symbols printed on the Brush/ Rack. Available only in sets of 10 toothbrushes, individually wrapped. ('Healthy Snack' and 'Animal' pictures only.)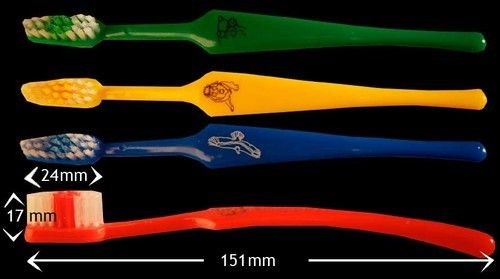 All our products can be purchased from our on-line Shop.
Access the Shop by clicking on the link in the border on the left.
Most types of children's toothbrushes can be used with the Brush Bus but if the brushes are too long, please note

*
*

If you wish to use our Brush Bus Cover with your Brush Bus, the Cover may not fit.
*

All the toothbrushes we sell have bee desiged by us for use with the Brush Bus Cover. Brush Bus Covers are available for purchase as an optional extra.